April 20, 2023
Migrating to the cloud while keeping your network protected
More and more businesses are saying goodbye to on-prem data centers and moving their workloads to the cloud. Gartner estimates by 2025, 85% of organizations will use a cloud-first principle, and 95% of new digital workloads will be deployed on cloud-native platforms, more than triple the figure from 2021 (30%).
Migrating to the cloud brings with it a whole host of benefits, from scalability and reduced costs to availability and reliability. However, it also means rethinking security.
Keeping your network protected becomes even more complicated, given the rise of multi-cloud and hybrid-cloud networks. Distributing workloads across various cloud and on-prem infrastructure creates inherent visibility issues. Enterprise customers struggle to get a comprehensive view of their network when it is dispersed across different environments and providers.
This lack of visibility leads to operational governance blind spots with businesses trying to understand who is on their network and what they are doing.. While the network used to be the perimeter, the moat in the castle and moat model, it is now the last source of truth for what is truly going on.
Businesses may think they have a clear understanding of their cloud workloads. Still, when they look under the hood, they start to see new dependencies, parts of the network they didn't realize were talking to each other, or out-of-date systems, components previously thought to be redundant.
It is surprising the number of enterprise customers that have limited controls in place to understand the data coming in and out of their network. Operators are in the perfect position to solve this, delivering cloud-native Intrusion Detection and Protection Systems (IDPSs) to protect multi-cloud networking customers.
The security concerns of the cloud
Many businesses retain some form of on-prem infrastructure that they protect with traditional firewalls. However, if you manage both cloud and on-prem data centers, users are exposed to threats from the cloud that can bypass on-prem protections.
The ephemeral nature of the cloud makes things much more complicated. Fixed on-prem data centers could be protected by fixed policies. Now security requires contextual information and an understanding of the environment.
Cybersecurity has transitioned from network perimeters and restricting access to an internal safe zone (castle and moat) to identity-driven perimeters and assuming every user might be compromised (zero-trust).
Instead of building a firewall around complex cloud-based networks, every user, application, and service is now treated as a threat until proven otherwise. Businesses can no longer build a moat when their IT infrastructure is distributed across multiple data centers, sometimes on opposite sides of the world.
However, cyber threats on the cloud remain very real. Data from IronNet's 2022 Annual Threat Report shows hackers' command and control servers are hosted on the most popular cloud service providers. With 33% hosted on AWS, the world's most popular cloud service provider.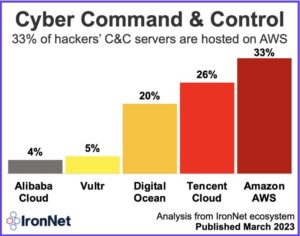 The challenge of extending deep packet inspection controls to the cloud
While extending firewalls with Deep Packet Inspection (DPI) capabilities to the cloud is possible, it comes at a considerable cost.
The preliminary problem is literally the cost. Cloud-native firewall solutions, offering DPI, from top cybersecurity companies like CheckPoint and Palo Alto offer significant protection, but they are extremely expensive, putting them out of the reach of many enterprise customers.
The second problem is the major impact DPI has on performance and latency. Firewalls inspect network traffic for malicious activity, limiting performance to the maximum throughput on a virtual instance. Traditional firewalls can not yet operate at the multi-gigabit line rates modern enterprises need.
Operators need to consider providing customers with cost-effective, high-performance security protections to overcome these problems. Located on a critical path, connecting enterprise locations, data centers, branches, and now the cloud, operators are perfectly positioned to offer these types of services.
The InsidePacket IDPS solution
InsidePacket offers automated multi-cloud connectivity and manageability on top of operator existing infrastructure. Operators can add InsidePacket services with the click of a button, without worrying about infrastructure changes. These services include InsidePacket's comprehensive IDPS solution, delivering security without sacrificing performance.
An IDPS filters any malicious activity before it can affect network components and controls. A primarily automated solution, IDPSs reduce the burden on the security team leading to more efficient operations.
Our technology detects any threats from the cloud, preventing attacks from breaching the network, all without affecting the line rate. Operators can provide the same speed to customers, safe in the knowledge their networks remain protected from malicious actors.
Partnering with Proofpoint, InsidePacket's IDPS solution can quickly recognize signs of malware and other threats and respond accordingly via:
Sending an alert to the InsidePacket multi-cloud management platform
Dropping malicious packets
Blocking traffic from the originating source address
Resetting connections
As the threats database is constantly updating, InsidePacket's IDPS prevents vulnerabilities being exploited in the window between discovery and security patch (i.e. window of vulnerability).
The InsidePacket IDPS is included, with a range of other security features, as part of our comprehensive Network-as-a-Service platform. Our software allows operators to deliver the services enterprise customers are looking for. A fundamental part of that offering is security. Security, done right without hidden costs, bandwidth throttling, or integration headaches.
Conclusion
To gain the benefits of multi-cloud networking, businesses also need to consider the additional security concerns it brings. While cloud-native firewalls can work great, they are costly and limit network speeds.
With InsidePacket, operators can simplify multi-cloud networking security, delivering everything enterprise customers want in a single solution, unlocking new revenue streams previously offered by over-the-top service or cloud providers.
Get in touch with our team today to learn more about the InsidePacket platform.